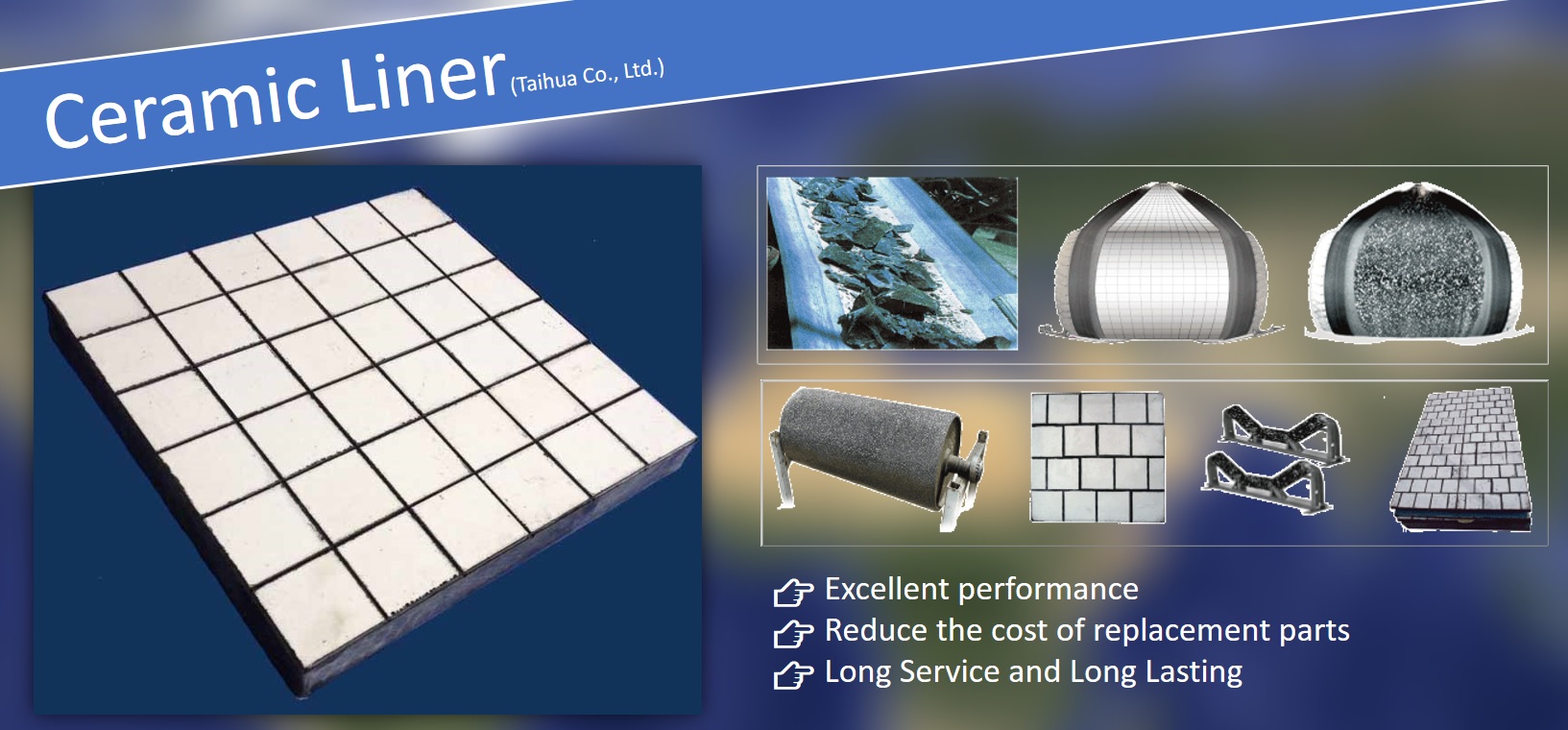 A liner, which was developed by our engineers 25 years ago, is still widely used. However, the liner has various disadvantages. Now, we provide a new liner that overcomes the disadvantages based on the new technology.
The new ceramic liner can be provided to a customer at a low price because it is made from a defective product from a ceramic factory.
The ceramic is pressed, many material waste (fragments,cracks ,etc...,) in the form of particle, are mixed into rubber to produce sheets.
This sheet provides a good price and abrasion resistance necessary on the pulley lagging sheet liner and abrasive belts.have superior performance to the conventional lining.(cast iron,rubber and synthetic).




By installing the liner with ceramic particles on a truck bed of a large dump truck, which is operated in a mine, etc., you can absorb noise and impact and reduce damage to the truck bed. The liner is also easily replaceable. 

If you want to fix a rubber sheet with ceramic particles to a shoot and the like, bolts can be used as shown in the above photos. You can also cut off the liner easily on site.
Installation Examples of a Liner for Improving Abrasion Resistance


Inexpensive and Long Lasting Ceramic Liner for a Shoot
 

Abrasion of a shoot has been a major problem.

By installing our high quality ceramic liner, you can increase the abrasion resistance by several times as compared with conventional liners.

You can accomplish a durable and effective lining by investigating a route of a transported object and installing the liner adequately around the area of high abrasion. 

| | | |
| --- | --- | --- |
| |   | The sheet with ceramic particles can be processed in various shapes. You can cut off the sheet easily on site and fix the sheet with adhesive or bolts depending on its use. |

| | | |
| --- | --- | --- |
| |   | A ceramic liner has been the essential part for equipment on which the ceramic liner can exert beneficial effects such as a shoot, an inner surface of a dust collector, and a hopper. To install the liner, a certain amount of the adhesive skill is required. We can provide the most suitable adhesive depending on its use. |

| | | |
| --- | --- | --- |
| |   |         A belt conveyor and skirt plate |



We has the best combination of ceramic,material that is manufactured from alumina oxide, proven to be very effective in combating wear, in addition to the superior wear life, reduce noise, compared to perforated steel plate.

The combination of crushed ceramic high alumina make trys, plates and rails add-ons, top down loads more resistant and have superior performance to the of conventional lining Corrosion engineering has developed a unique impact and wear resistant linear which features the excellent wear resistant properties of high.

OUR CERAMIC TILES AND CRUSHED CERAMIC VULCANIZED, with high alumina content,resistant to abrasion, which support the friction of abrasive agents, TANKS OR SIMILAR INSTALLATION SUITABLE FOR STORAGE AND TRANSPORT OF MATERIALS FINE GRAINED.
Lining Pulley Abrasion and Conveyor Impact System




The plates are vulcanized rubber tiles crushed.

 
 
 
 
 
 
 

Beneficial use:

* Reduces wear and tear

* Reduces slippage

* Non slippage in Monsoon

* Highest Coefficient of friction